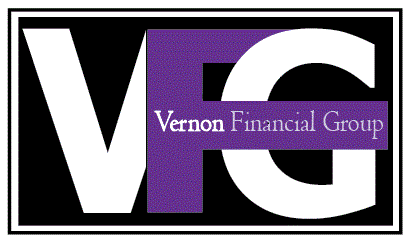 VERNON FINANCIAL GROUP,LLC
"Creating Financial Success One Client at a Time"
WELCOME TO
VERNON FINANCIAL GROUP
VFG offers an array of services; enabling our clients to secure a strong financial foundation and  future. We partner with our clients from start to finish, focusing on their needs while producing new ideas, developing effective strategies and designing high quality and scalable solutions. Contact us to learn more.
We're not your cookie cutter advisors!
Vernon Financial Group, LLC in partnership with Five Rings Financial is focused on educating middle to moderate income earners on how wealth is created. We share common core values; Trust, Ethics, Faith and Focus on the client. Five Rings Financial was founded with a simple yet groundbreaking objective: to educate Middle America in the art of how money works. At the cornerstone of those efforts lies a belief that in order to make your money work, you must understand the fundamentals of personal finance. We remind our clients of the three hurdles obstructing the path between your financial starting point and your personal finish line: inflation, debt and taxes. These are the silent enemies to a secure financial future. The good news is that overcoming these obstacles is possible – with the right assistance and planning.​
Are you or your small business in need of our services? We do not charge fees for consultation. Message us today!
Contact us and learn how our services can benefit you and your business.
5830 Granite Parkway
Plano, Texas 75024
Suite 100-313